textured
A selection of slightly more grungy textured Joomla templates.
In contrast to the simple and clean Joomla templates in our catalogue we also have a number of slightly dirty textured Joomla templates for those that like a bit of grit on their website. Our version of grunge tends to still be sparse and minimal, with just enough texture and grit to give the design that little extra depth that grunge webdesign tends to do so well. More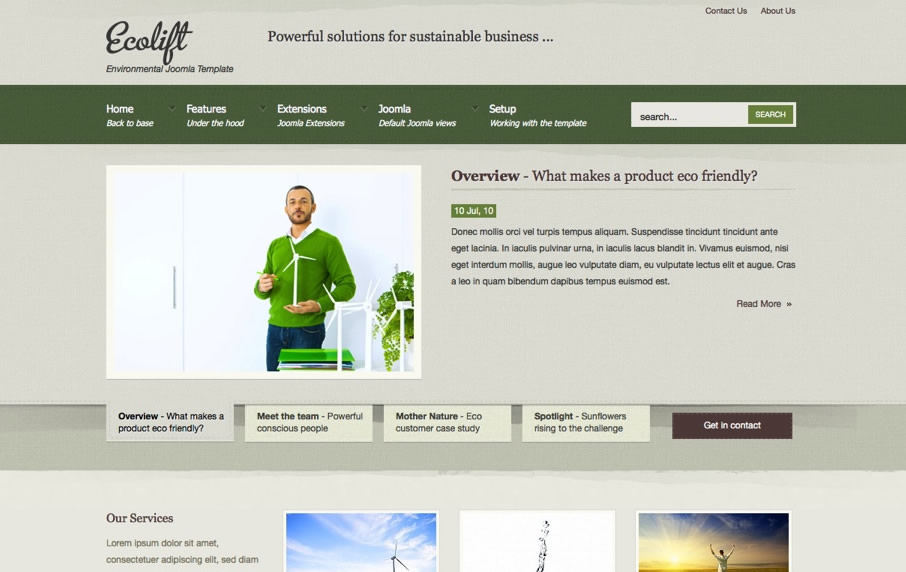 Apr 2013 - Joomla 2.5 Template / Joomla 3.0

Noun: Arcadia - a region or scene of simple pleasure and quietA beautifully designed Joomla template by Glenn Thomas aka The Fox and the King with a stunning sunlit landscape fused with bold retro colour schemes ... More

...

Nov 2012 - Joomla 1.5 / Joomla 2.5 Template

Wide open space, earthy tonal grunge and a ton of fresh baked style make Ecospirit the perfect green website template. It's a responsive Joomla template built for a variety of uses, mixing delicate textures, soft stained grunge elements to create a clean and slightly dirty Joomla template ... More

...

August 2011 - Joomla 1.5 / Joomla 2.5 Template

The Meridian Joomla template is a subtle and minimal textured template that is a little bit clean, a little bit dirty and very very earthy. It comes with the usual flexibility of the Zen Grid Framework, a smashing k2 Joomla Template and some elegant colour schemes that are perfect for an earthy, eco friendly business website ... More

...

Feb 2011 - Joomla 1.5 / Joomla 2.5 Template

Lacuna is a fun Joomla template that merges bright colours, with subtle textures, smooth gradients, a cluster of clouds and a splash of sunshine. This Joomla template offers an astounding array of colour choices and layouts that are designed to suit your personal blog, folio or slightly left of center Joomla business website ... More

August 2011 - Joomla 1.5 / Joomla 2.5 Template

The Ecolift Joomla template an elegant environmental theme with soft grunge elements combined with an organic crafty feel. Its the perfect template for creative artists, green businesses or even handmade arts and crafts websites. Its built on our super flexible and easy to use Zen Grid Framework and comes with a wide range of features ... More

August 2011 - Joomla 1.5 / Joomla 2.5 Template

Grid2 is a sharp Joomla template with soft gradients that is ideal for a photographer's folio, a magazine or a personal blog. It's built on the Zen Grid Framework and comes with 20 immaculate themes full of texture, colour and finesse. Grid2 also comes ready with a slick new K2 template that is ideal for a magazine or blog ... More

...

April 2010 - Joomla 1.5 Template

Folio Life is a beautiful mix between clean and grunge and is the perfect Joomla template to use for a slightly edgy, after hours magazine / news portal. Folio Life is the first template built upon our amazing new Zen Grid framework which totally revisions what it is to control and work with a Joomla 1.5 Template.