Inspire
Feb 2013 - Joomla 2.5 Template / Joomla 3.0
Inspire is an enigmatic and elegant Joomla template. Dark textured backgrounds, with razor sharp bevels and clean typography make this Joomla template somthing you can be inspired by ... More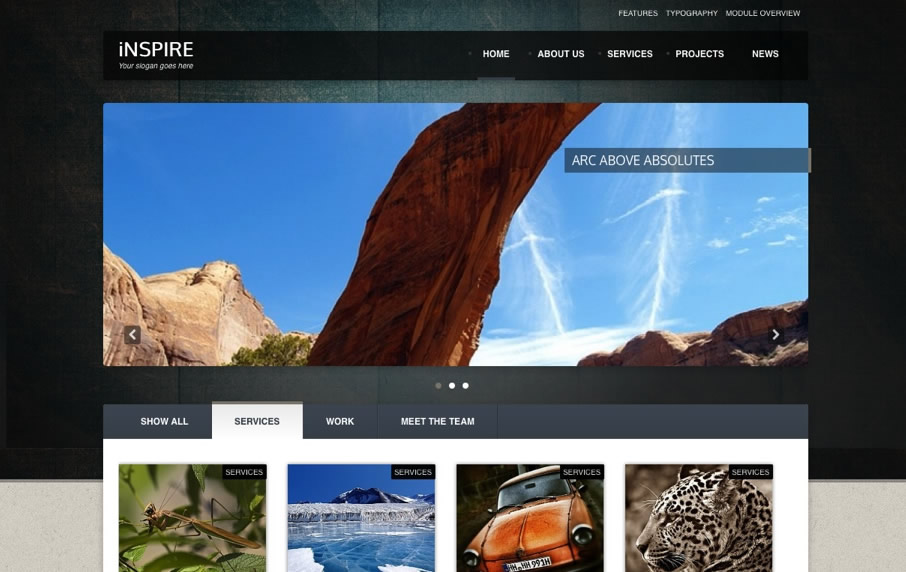 A clean and slightly dirty responsive template.

Inspire features a full container width slideshow smooth masonry filter display on the front page via our all purpose module Zentools.
Social font icons

Inspire uses our social icon module called Zen Social to display social icons for your favourite social networks. You can choose to use images or font icons for your social network buttons.

A wide variety of styles

There are 14 base colour schemes with hundreds more possible using T3's built in in themer called - Theme Magic

Full responsive layout

The Ignite template is a responsive theme for Joomla which automatically scales and adapts to the size of the screen used by your user

Zenkit responsive templates

This template is optimised for use with Zenkit - our flexible responsive templates that effortlessly transform your K2 content into responsive slideshows, accordion, grid, carousel, magazine or blog layouts.

Built on bootstrap

Bootstrap Joomla template utilising a myriad of built in Joomla 3 and core Bootstrap functionality.

All in one Zentools module

Zentools is a responsive image and content gallery module that makes it possible to create a myriad of layouts and designs. It is an all in one responsive module that is capable of generating slideshows, carousels, grids, accordions and more. It's a popular choice for users looking for a simple single solution for their module needs.

Powerful Mega Menu

Ignite features a flexible feature rich mega menu which allows you to add images, icons, multi-columns and modules to your standard Joomla menu.

Layout Control

An inutitive layout interface is available which gives you control control of modules widths across multiple screen sizes.

Joomla 2.5 and Joomla 3+ support

Ignite comes in a unified Joomla 2.5 and Joomla 3+ template package, separate Joomla 2.5 and Joomla 3+ quickstart packages.

Built using T3

The T3 template framework is a lightweight and yet powerful template framework for Joomla. It's built on bootstrap and offers powerful for tools for template creation and site management.

Google font ready

The Ignite theme allows you to easily add any of the fonts available on the Google web font directory.

Multiple language support

This template is all ready to take advantage of Joomla's powerful mult-language functionality.

Short codes

Use our JB Type plugin to add short code like functionality to your Joomla website.
Like what you see?
Download the Inspire template for as little as

$89