Vintage
March 2012 - Joomla 1.5 / Joomla 2.5 Template
Vintage is a tumblr inspired Joomla template that features multiple colour schemes a simple tagging system for your content and an elegantly designed responsive design ... More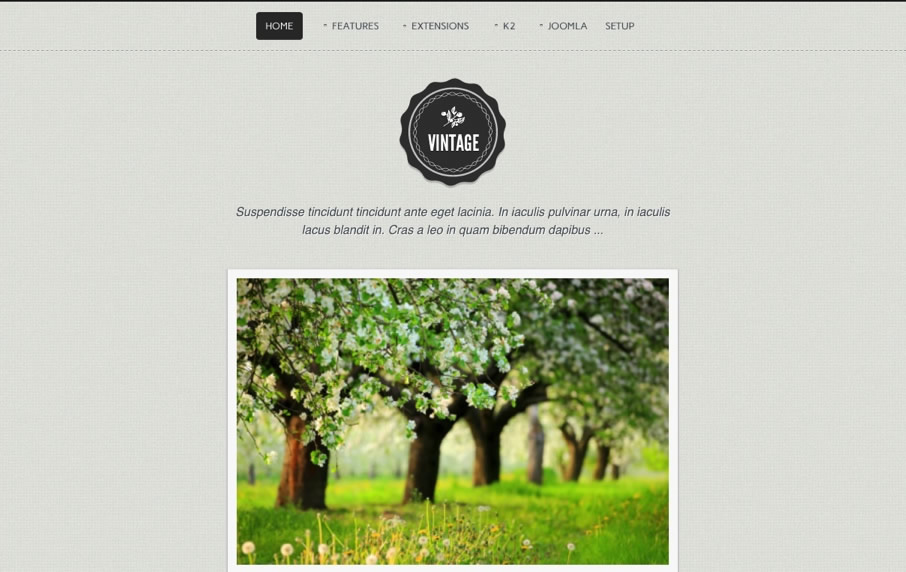 A responsive blog Joomla Template

The Vintage demo site shows a simple one column layout with site links, search and other modules you would normally see in the side bar, hidden in the hidden panel . But if that isn't quite your cup of tea, since this theme is built on the flexible zen grid framework you can have a more traditional two, three or four column layout.
Elegantly detailed design

Vintage comes with some flexible styling options including 5 background variations, 8 colour highlights and 8 different tag / icon colour schemes and 10 tags per set.

Extensive theme options

Select from 15 hilite styles, 5 background textures and 9 coloured tag options to create your own vintage theme.

Responsive template design

The Vintage template is a responsive Joomla template which means that it is optimised
to display across multiple screen types and screen sizes.
It is a single template optimised for mobile, tablet, desktop and wide screens.

All in one Zentools module

Zentools makes it super simple to use your Joomla / K2 content, or images from a folder to create responsive slideshows, carousels, accordions, grid galleries and more. Featuring a drag and drop interface and intelligent admin panel Zentools is a popular choice for site builders and developers alike.

Compatible with Zenkit and K2

This template is optimised for use with Zenkit - our flexible responsive templates that effortlessly transform your K2 content. Easily apply a slideshow, accordion, grid, carousel, magazine or blog layout to your K2 content.

Extensive fonts available

Beautiful fonts are just a click away. This theme makes it very easy to add any of the fonts found on the google font directory. Just add the name of the font to the administrator panel and let the template do the rest.
Like what you see?
Download the Vintage template for as little as

$89