Business
A selection of business and corporate Joomla templates.
Our idea of a joomla business template is a template that is not only simple to use but one that also carries a healthy dose of style. It should be elegant and professional, without creating too much visual fuss that distracts the visitor from their purpose, which is of course, reading your content, buying your product or hiring your services. Here is a selection of our Joomla templates that we think fit that bill. More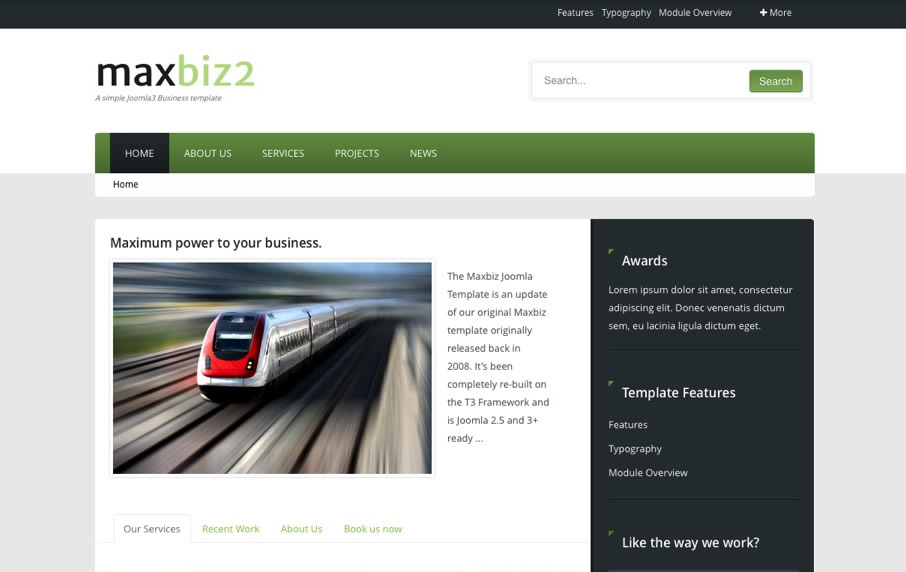 Joomla 3+ Template

Build.r is a do it yourself starter theme that truly puts control of your design at your finger tips, without compromising on performance, flexibility or functionality. It's also built on the Zen Grid Framework v5 which means it's super fast and capable of achieving ridiculously high page speed scores in Google page speed tests. More

Joomla 3+ Template

A bright and beautiful corporate template for Joomla 3+. Corporation is blazingly fast, incredibly flexible and oh so very very elegant. It's a Joomla template that is designed to put control of your design back into your finger tips. More

Joomla 3+ Template

Scale new heights in 2015 with Ascent2. This new Joomla template is a reworking of our 2012 favourite - just like the original it's a flexible responsive template with elegant lines, classic typography and a tonne of features to help you build a beautiful responsive Joomla website. More

Joomla 3+ Template

A super fast, lightweight and minimal Joomla template for your next Joomla project. Put your stamp on our new responsive starter theme and let your imagination run wild with the potential. More

Joomla 3+ Template

Rasa2 extends the original Rasa template that was released back in August 2011 and brings it into the responsive new world with a plethora of cutting edge design and performance features. Rasa2 is built on our brand new Joomla3 template framework which offers fast performance right out of the box, flexible theming tools, extensive responsive features, dynamic and intuitive interface and more. More

Joomla 2.5 Template / Joomla 3+ Template

More than just a way of life, Lifestyle2 is designed to be a super flexible full width responsive template for any Joomla site. Built on Bootstrap 3 and T3 it's the ideal partner for your next Joomla venture. More

Joomla 3+ Template

Hub2 is a T3 / Joomla3 update to the original Hub template. It is an elegant Joomla template that is ideal for magazine and news portal sites. Hub2 template is a simple design that incorporates subtle textures combined with bold colours that combine to create a striking Joomla design ... More

Apr 2013 - Joomla 2.5 Template / Joomla 3.0

Blankoshop is a super clean and minimal Virtuemart starter template . It's a responsive Joomla template designed for you to either build your ecommerce master piece with or if you like things a little simpler just add a little touch of zen to Joomla's old favourite ecommerce solution ... More

...

Aug 2012 - Joomla 1.5 / Joomla 2.5 Template / Jomsocial Template

The Highline Joomla template is a beautiful responsive Joomla template that combines a popular full screen slideshow with the a flexible masonry like layout - it's ideal for magazine, blogs and portals alike. Updated with a responsive Jomsocial template. ... More

...

January 2012 - Joomla 1.5 / Joomla 2.5 Template

Lifestyle is a stunning Joomla template combining transparency, bold slideshows with a healthy dose of white space. It is a responsive design featuring a fullwidth slideshow and also comes with 15 different colour schemes to choose from ... More

...

December 2011 - Joomla 1.5 / Joomla 2.5 / Joomla 3 Template

Colour Shift is a bold and beautiful Joomla Template. It is a responsive design that comes with 8 vibrant colour schemes to make your part of the web a happy place ... More

October 2011 - Joomla 1.5 / Joomla 2.5 / Joomla 3+ Template

The Responsive Joomla Template is the new vanilla skeleton theme from Joomlabamboo. It's built on the Zen Grid Framework v2.0 which is feature rich, mobile ready and easy to use. It's the ideal starting point for creating a new responsive Joomla website ... More

...

August 2011 - Joomla 1.5 / Joomla 2.5 Template

Newscycle builds on the clean magazine layout from Newstream and adds some funky ribbons, smooth gradients and a smattering of bold colour schemes. It comes with a k2 Joomla template, large and elegant slideshow styling and is the ideal accompaniment for your Joomla news portal or magazine site ... More

Jun 2011 - Joomla 1.5 / Joomla 2.5 Template

Element is a colourful and flexible Joomla template that combines subtle pattern textures with bold colour palettes to create a truly beautiful and versatile Joomla template. It comes with a stylish k2 Joomla template and an array of colour choices that make this one of the most flexible templates we have created ... More

...

October 2010 - Joomla 1.5 / Joomla 2.5 Template

Inside Out is a fresh joomla template that is styled perfectly for your online magazine or folio. It comes with a unique left column setup that keeps your menu items up front and on the screen regardless of where your user is on the page. It also comes with a crisp K2 template and its built on our zen grid framework which means that its a powerful solution for your website ... More

...

August 2011 - Joomla 1.5 / Joomla 2.5 Template

While the Rasa Joomla template is not quite a blank slate it's certainly a good clean and simple Joomla template to start building your business website from. It is an elegant template with built in support for K2 plus it's built on our Zen Grid Framework which makes it easy and intuitive to work with ... More

August 2011 - Joomla 1.5 / Joomla 2.5 Template

The Ecolift Joomla template an elegant environmental theme with soft grunge elements combined with an organic crafty feel. Its the perfect template for creative artists, green businesses or even handmade arts and crafts websites. Its built on our super flexible and easy to use Zen Grid Framework and comes with a wide range of features ... More

August 2011 - Joomla 1.5 / Joomla 2.5 Template

Newstream matches simplicity with a bold colour palette to create an elegant Joomla news portal or Joomla magazine template. Newstream also comes with an incredible K2 Joomla template that can help you to create an interactive online portal with absolute style and since the template is built on our Zen Grid Framework it makes it almost effortless to create your own flexible interactive magazine masterpiece... More

...

January 2010 - Joomla 1.5 / Joomla 2.5 Template

Avanti is a smooth business Joomla template with a creative edge - Its the perfect vehicle to put your business out in front at the start of a new decade. Its packed with features including a k2 template to work with the Joomlaworks cck component, a new update of the JB Slideshow module and microblog module both that add advanced K2 functionality to your website ... More

...