Eco Templates
A selection of nature / eco Joomla templates.
Whether you are looking for a Joomla template that is for a natural health practitioner, yoga studio or even a shop selling environmental products these Joomla templates are certainly ready to be put in to service. One of our specialities is creating Joomla templates that suit a greener, cleaner, healthier lifestyle and this collection of joomla themes is perfect for anyone wanting to make the web a healthier place. More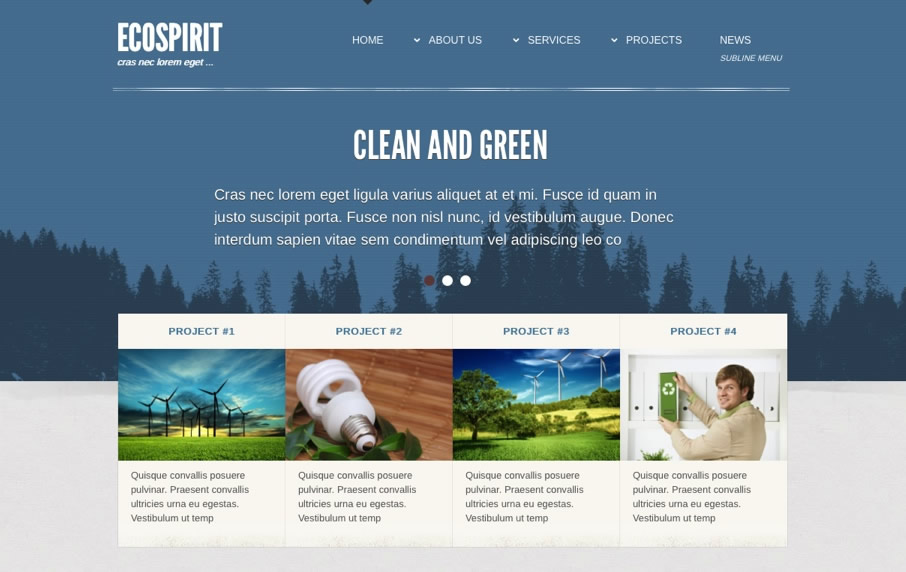 Apr 2013 - Joomla 2.5 Template / Joomla 3.0

Noun: Arcadia - a region or scene of simple pleasure and quietA beautifully designed Joomla template by Glenn Thomas aka The Fox and the King with a stunning sunlit landscape fused with bold retro colour schemes ... More

...

Nov 2012 - Joomla 1.5 / Joomla 2.5 Template

Wide open space, earthy tonal grunge and a ton of fresh baked style make Ecospirit the perfect green website template. It's a responsive Joomla template built for a variety of uses, mixing delicate textures, soft stained grunge elements to create a clean and slightly dirty Joomla template ... More

...

January 2012 - Joomla 1.5 / Joomla 2.5 Template

Lifestyle is a stunning Joomla template combining transparency, bold slideshows with a healthy dose of white space. It is a responsive design featuring a fullwidth slideshow and also comes with 15 different colour schemes to choose from ... More

...

November 2011 - Joomla 1.5 / Joomla 2.5 Template

The Platform Joomla Template is a responsive Joomla template aimed at magazine, folio and blog sites. It feature support for the brand new Zentools module which when combined with the Zen Grid Framework is an ideal all in one solution for your Joomla content needs ... More

...

August 2011 - Joomla 1.5 / Joomla 2.5 Template

The Meridian Joomla template is a subtle and minimal textured template that is a little bit clean, a little bit dirty and very very earthy. It comes with the usual flexibility of the Zen Grid Framework, a smashing k2 Joomla Template and some elegant colour schemes that are perfect for an earthy, eco friendly business website ... More

...

Feb 2011 - Joomla 1.5 / Joomla 2.5 Template

Lacuna is a fun Joomla template that merges bright colours, with subtle textures, smooth gradients, a cluster of clouds and a splash of sunshine. This Joomla template offers an astounding array of colour choices and layouts that are designed to suit your personal blog, folio or slightly left of center Joomla business website ... More

August 2011 - Joomla 1.5 / Joomla 2.5 Template

The Ecolift Joomla template an elegant environmental theme with soft grunge elements combined with an organic crafty feel. Its the perfect template for creative artists, green businesses or even handmade arts and crafts websites. Its built on our super flexible and easy to use Zen Grid Framework and comes with a wide range of features ... More

August 2011 - Joomla 1.5 / Joomla 2.5 Template

Grid2 is a sharp Joomla template with soft gradients that is ideal for a photographer's folio, a magazine or a personal blog. It's built on the Zen Grid Framework and comes with 20 immaculate themes full of texture, colour and finesse. Grid2 also comes ready with a slick new K2 template that is ideal for a magazine or blog ... More

...