Folio Life
April 2010 - Joomla 1.5 Template
Folio Life is a beautiful mix between clean and grunge and is the perfect Joomla template to use for a slightly edgy, after hours magazine / news portal. Folio Life is the first template built upon our amazing new Zen Grid framework which totally revisions what it is to control and work with a Joomla 1.5 Template.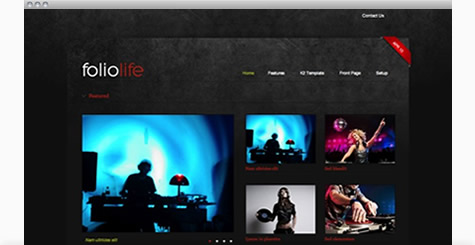 What do you get when you mix clean with grunge?
In keeping with the minimal Joomlabamboo aesthetic Folio Life merges the clean with the dirty by providing a rich stone grunge texture for the website background while using some smooth bevelled lines to create a happy balance between a minimal and grungy aesthetic .
K2 CCK Template
Folio Life also comes with a slick magazine style blogging K2 template that provides an amazingly simple layout for the multitude of extra features that the K2 component provides.
Built on the Zen Grid Framework
Our Zen Grid framework makes it very easy to make layout and colour changes to your site with zero templating or coding knowledge. No more digging into code to adjust the width of an element and logo replacement is a breeze. The new framework also sports a brand new template interface that puts the plethora of Zen Grid parameters into an easy to use and understand user interface.
Six Colour Schemes
Folio Life comes with six different bright typography schemes that help to offset the generally dark feel to the theme.
60 Module Positions
Package Contents
xhtml and css valid Joomla 1.5 Template
Joomla 1.5 Quickstart package
Full source PNG Files