Zenbase
Feb 2013 - Joomla 2.5 Template / Joomla 3.0
A free Joomla template built on the T3 Joomla template framework. The perfect starting point for your next Joomla website ... More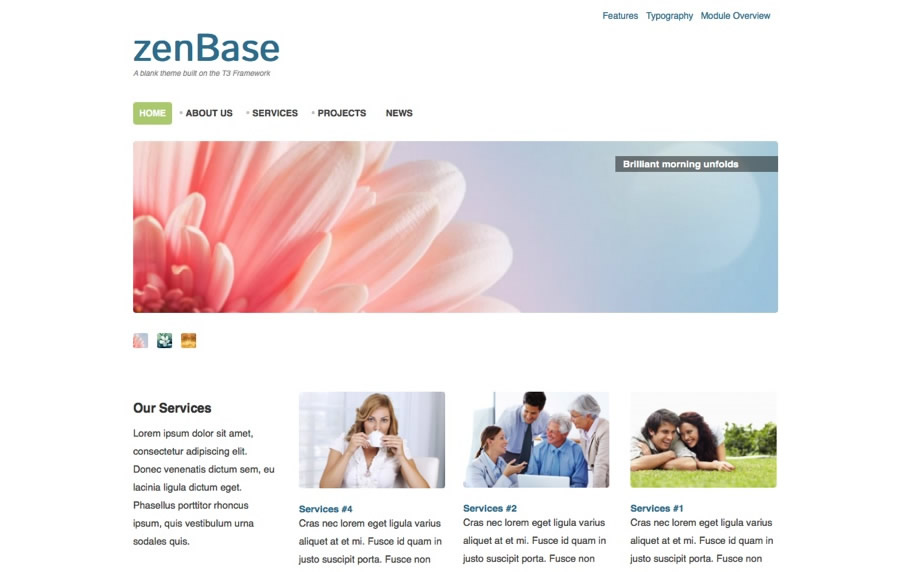 A free responsive Joomla 3 Template

Zenbase is a Joomla 3 skeleton template designed to be the ideal starting point for working with Joomla 3 and the T3 template framework.

Club DownloadsFree Template Free Quickstart
Responsive K2 templates

This template is optimised for use with our responsive standalone templates for K2. Zenkit features responsive slideshows, carousel, filterable masonry grid, accordion, magazine and blog layouts.

Built on bootstrap

Bootstrap Joomla template utilising a myriad of built in Joomla 3 and core Bootstrap functionality.

Full responsive layout

The Ignite template is a responsive theme for Joomla which automatically scales and adapts to the size of the screen used by your user

Responsive galleries with Zentools

Zentools makes it super simple to use your Joomla / K2 content, or images from a folder to create responsive slideshows, carousels, accordions, grid galleries and more. Featuring a drag and drop interface and intelligent admin panel Zentools is a popular choice for site builders and developers alike.

Powerful Mega Menu

Ignite features a flexible feature rich mega menu which allows you to add images, icons, multi-columns and modules to your standard Joomla menu.

Layout Control

An inutitive layout interface is available which gives you control control of modules widths across multiple screen sizes.

Joomla 2.5 and Joomla 3+ support

Ignite comes in a unified Joomla 2.5 and Joomla 3+ template package, separate Joomla 2.5 and Joomla 3+ quickstart packages.

Built using T3

The T3 template framework is a lightweight and yet powerful template framework for Joomla. It's built on bootstrap and offers powerful for tools for template creation and site management.

Google font ready

The Ignite theme allows you to easily add any of the fonts available on the Google web font directory.

Multiple language support

This template is all ready to take advantage of Joomla's powerful mult-language functionality.

Short codes

Use our JB Type plugin to add short code like functionality to your Joomla website.
Like what you see?
Download the Zen Base template for as little as

$89