Platform
November 2011 - Joomla 1.5 / Joomla 2.5 Template
The Platform Joomla Template is a responsive Joomla template aimed at magazine, folio and blog sites. It feature support for the brand new Zentools module which when combined with the Zen Grid Framework is an ideal all in one solution for your Joomla content needs ... More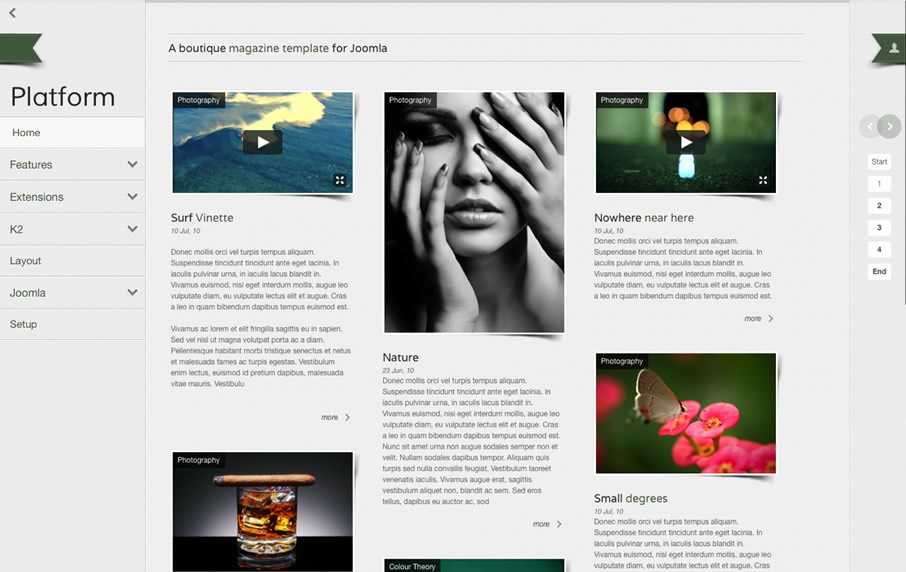 A fullwidth responsive Joomla Template

The Platform Joomla template is optimised to display across all browser widths and screen sizes. The front page features the Zentools module in a fluid masonry layou. The same design is served up to desktops, laptops, tablets and smart phones alike.
Extensive fonts available

This template allows you to choose from a wide variety of fonts. It's easy to add to the core font stacks with any of the fonts listed on the Google web font directory. With new fonts added every week the sky is literally the limit.

1

Built in K2 Template override

Full responsive layout

The Ignite template is a responsive theme for Joomla which automatically scales and adapts to the size of the screen used by your user

2

7 Colour Schemes

Responsive slideshows, grids, accordions and more

Zentools is an all in one solution for creating feature and content rich websites for site builders and developers. An inuitive and intelligent drag and drop interface makes it possible to create flecxible layouts including responsive slideshows, carousels, grids galleries and more.

3

Left aligned layout.

4

Unified Joomla 1.5 and Joomla 2.5 package
Like what you see?
Download the Platform template for as little as

$89