Gazetta
Joomla 3+ Template
A multiple purpose and minimal-ish news magazine template with an emphasis on whitespace, featured images and typography. Gazetta creates stylish featured images using the Joomla article image. More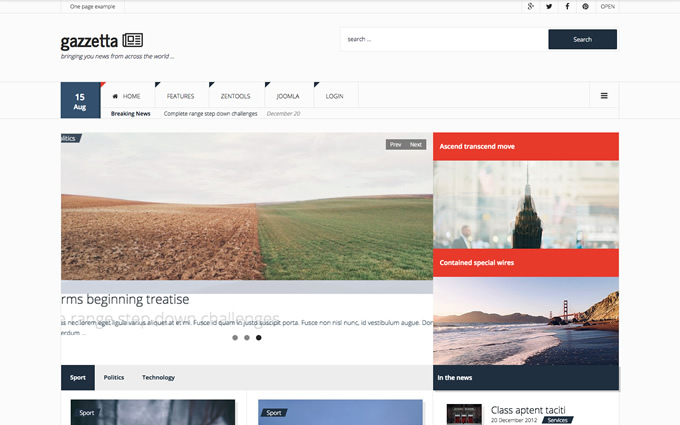 A responsive news or magazine Joomla template ...

Gazetta is a beautiful Joomla template designed to showcase your content with it's unique use of the Joomla item image to create stylish content pages that will add a unique flavour to each content page.
We like white space

Gazetta features good use of whitespace to make sure that your visitors can focus your content without getting overwhelmed by visual clutter.

Advanced theme control

Gazetta provides the option for you to specify the spacing and colours used across the design. You can set the general module padding, mainconnent padding, sidebar padding, sidebar background, date colours, menu color and more.

Flexible layout structure

Like most of our Joomla templates, Gazetta makes it possible for you to create single, double or triple column layouts. Sidebars can be placed to the left or right of the main content or if you prefer you can have a classic three column layout with the main content in the center.

Selective Bootstrap support

Gazetta comes with the option to load Bootstrap v2 or v3, or if you'd prefer, leave it out all together. The theme doesn't require bootstrap at all and our selective bootstrap tool makes it possible for you to pick and choose which Bootstrap elements you want to include.

Google Font and Typekit Font

You can easily add any of the fonts available on the massive Google web font directory or if you prefer something a little more tailored to you rneeds you can hook the template up to reference any of your Typekit font kits.

Offcanvas, megamenu and accordion menus

Gazetta comes with a number of different menu options to suit your taste. You can use offcanvas, toggle menu, select menus or even a simple flat menu for mobile devices. It also features a smooth sliding accordion menu for vertical menus in the sidebar.

Baked in CSS3 animations

Combined with Zentools2, Gazetta is able to fade, slide or bounce entyire rows of content or specific items in a layout (via zentools2) once the user scrolls the content into view.

Back to top, Sticky Nav and Lazyload Image

Usability tools like back to top, sticky nav and lazyload also come built directly into the template itself.

Connect your social networks

You can also easily display links to your social networks via the social settings in the template and apply share functionality like Facebook like and Twitter tweet this or Pinterest pinit buttons to those icons.

Developer friendly tools and architecture

Our framework is an open and flexible templating framework that provides an easy to follow layout structure and hierarchy with a lot of tools such as script and css compression out of the box via the template settings.

Built in One page mode

One page websites are big news in 2015 and Gazetta features the ability to transform the main menu into a menu consisting of links to various rows on the page.
Like what you see?
Download the Gazetta template for as little as

$89