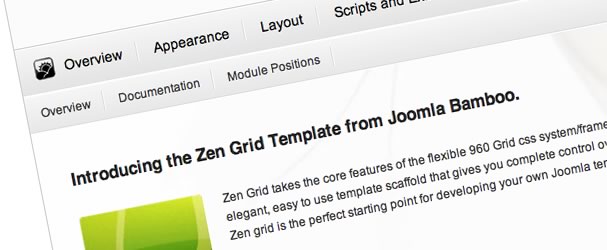 Over the last fortnight we have been furiously recreating our Zen Grid Joomla template framework, adding some great new features as well as completely re-engineering the template backend. Ive attached some screenshots of the template administrator and will post some more about the new features in the next day or so, but for today I wanted to highlight the changes to the admin UI.
Zen Grid v1.0 was full of features but the admin interface was a tad perplexing - especially if you were new to Joomla. The new interface has really cut down on a lot of the clutter and presents the settings in what I hope is an intuitive and easy to use layout.
As an example, I've already had a few people remark that it was cool that we added Analytics to the template not realising that the option to add your google anaytlics code had been there the whole time. For me thats a sign that this is going to be much easier to use if punters are "discovering" old features.
Our plans for the next few weeks are to release the April template using the framework as well as a couple of simple start themes for the Zen Grid template itself and then make our way back through the catalogue and move the bulk of the previous templates across to the new framework.
Until then check out the screenshots below and let us know what you think.
Template description and introduction.
Template performance.
Template theme.
blog comments powered by

Disqus