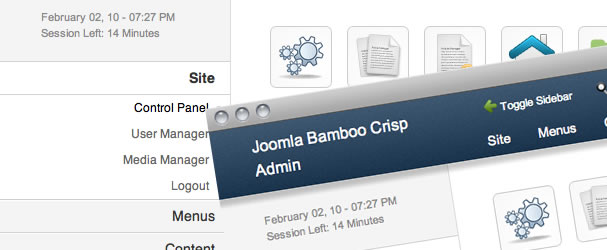 Please note that our Admin templates are no longer compatible with the latest version of Joomla and have been retired from service.
We are happy to announce the release of our second Joomla admin theme called Crisp.
Crisp is a slick, minimal and dare I say Crisp theme for your Joomla administrator. We have drawn on a lot of the functionalities found in the Simpla template that we released back in December 2009, but have taken the design to a more mature, clean, almost corporate level, by replacing the textural flare of Simpla with some clear, crisp lines and subtle drop shadows.
Crisp includes the following features:
Six Colour Schemes
Accordion side bar menu (with sliding toggle)
Choice of top or side menu or both
Joomla update notifier
Session timer and session refresh
Server time display
Plus more ....
For more info check out the feature overview, the template documentation or the demo. You can see a slightly restricted version of the template on this link where you can login using the username and password admin and admin.
blog comments powered by

Disqus