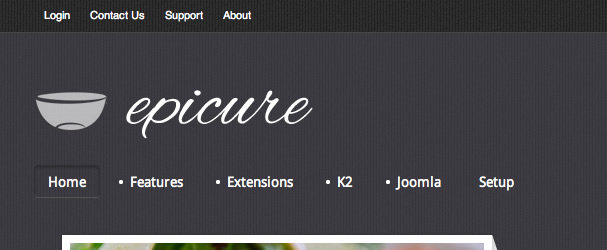 I'm happy to announce the availability of our latest responsive Joomla template. Epicure is an elegant template with subtle textures, refined typography and a stunning responsive slideshow.
You can see the Epicure demo, read about it's features, check out the extensive documentation or go straight to the download area to grab yourself a copy. Epicure is available as a combined download for Joomla 1.5 and Joomla 2.5 and also comes with Joomla 1.5 and Joomla 2.5 quickstart packages.
Six responsive Joomla templates and counting.
We are committed to creating cutting edge (nice alliteration!) responsive designs for Joomla and it is my hope that in the next few weeks we should have a few of our older themes ported across to version 2 of the Zen Grid Framework and also sporting marvellous mediaqueries that make for mobile friendly (couldn't help myself) Joomla templates.
If you missed our previous responsive templates check out the list below:
Late again ...
We are making progress on bringing our template releases back into a more acceptable time frame but for any one whose subscription ran out in the last few weeks - after the 1st Feb and before the 1st March - please contact us and we will send through the relevant Epicure template files that you were entitled to.
blog comments powered by

Disqus