 Update: This issue has now been fixed and so users who have their update status to the long term release cycle should be notified of the available updates.
Last week when the update to Joomla 3.0.3 was announced, I headed straight to the update manager on my sole live instance of Joomla 3 to test out the new update workflow on a live site.
Unfortunately after I purged the cache and checked for new updates there were no updates to install.
I scratched my head for some time wondering what I had done wrong, checked the version of Joomla 3 I was using, and then I remembered that the Joomla release cycle now has two streams - short term and long term.
The update manager is set to notify users of long term release updates by default and so in order to get notified of these small (and very important security updates) you need to have the update manager set to short term support updates.
Differentiating the two release cycles was done in order to help users avoid the terror of updating from one major version of Joomla eg Joomla 3 to another major version of Joomla eg Joomla 4 - before all of their templates or extensions were ready.
Step 1.
In your Joomla administrator navigate to the Joomla update manager under components > Joomla! update.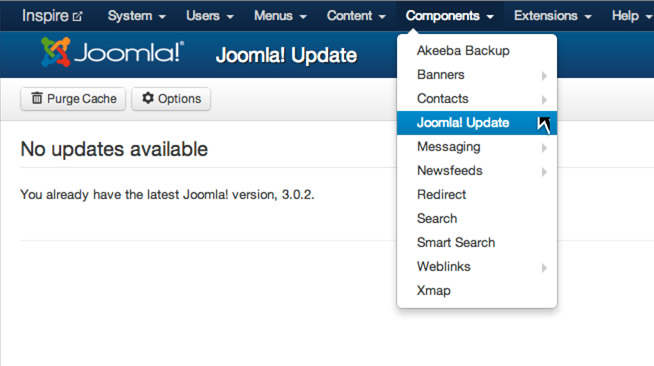 Step 2.
Click on the options button and you will be taken to the options page.
Step 3.
In the Update server drop down you should see a number of different options. Select the Short term cycle option then hit save.
Step 4.
After this the update manager should automatically find an update for you.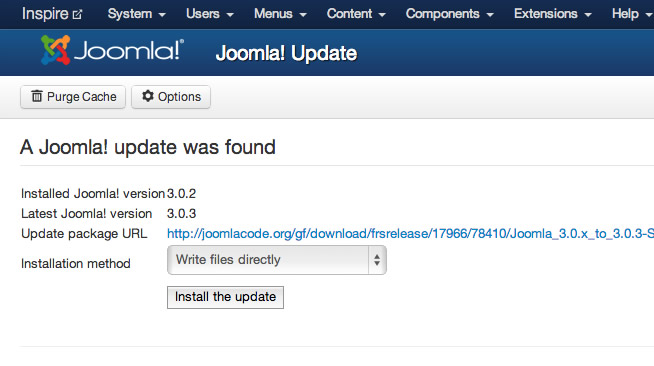 If for some reason it doesn't you can navigate to extensions . extensions manager > update and the update to Joomla 3.0.3 should show.
And into the future ...
I'm hopeful that this issue will be sorted out shortly, however it's important that once it does, then you need to switch back to long term updates after you upgrade to v3.5. This will avoid any un-wanted or premature updates to Joomla 4 and beyond.
blog comments powered by

Disqus