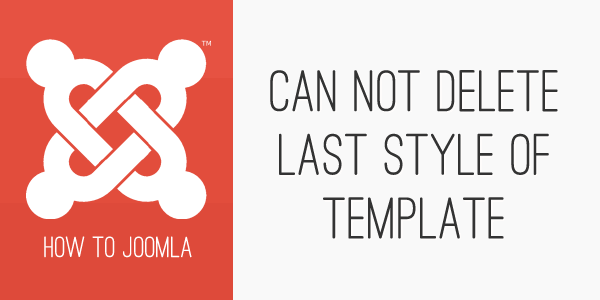 If you read my previous blog post, this explained how to assign a specific template to a specific menu item, you would be familiar with how to create a copy of your template in the Joomla template manager and then assign it to a menu item.
What happens then if you try to delete all the template styles of a specific template in template manager because, for example, you decided to use some other template? Eventually, you will encounter the following error message:
---
First of all - What is a template style?
A template style is a feature introduced in Joomla 2.5 that allows users to assign different template styles to individual menu items. Each template can have as many defined template styles as you like without adding to your server space. When a template style is created the data for the new template style is simply duplicated in the database rather than duplicating the physical files. Each style represents a copy of the default template with a different configuration of it's parameters.

What does the error mean?
With Joomla 2.5/J3.0 you can only manage template styles in Template manager and you can't delete (uninstall) templates – this error means you are trying to delete the last style of a template in the template manager.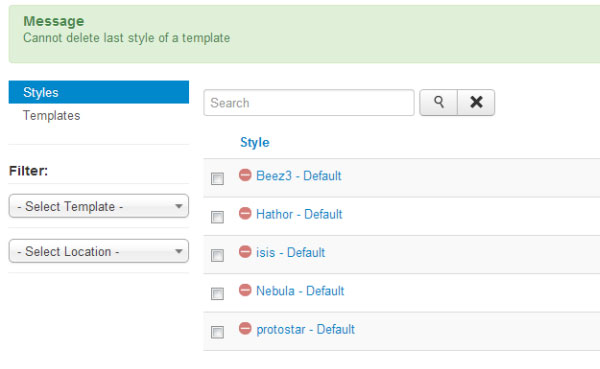 How to delete a template in Joomla 3?
So if you want to completely uninstall a template from your site here are the steps that needs to be followed to remove the template from the system completely:
In the main menu of the Joomla administrator interface, navigate to Extensions menu item and then click on the "Extension manager" menu item in a submenu.


Once the extension manager has opened click the word "Manage" (as marked by the red arrow).


Once the manage page has opened you will see a long multi page list of all extensions and templates installed on your site. These items include components, modules, plugins and templates. To make it easier to find the template you want to delete set the Select Type drop down list box to filter for templates.


With the list filtered select the template you want to delete by clicking its check box (marked by the red arrow) and click in the uninstall button in the top right corner.
Following the uninstall of the template you will see a message informing you the template was successfully deleted.


blog comments powered by

Disqus