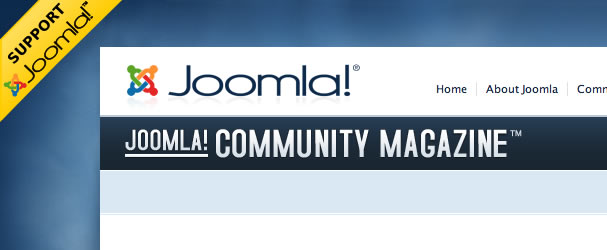 The very first edition of the Joomla Community Magazine has just hit the presses and judging from the responses via twitter and in the comments on the magazine it's already quite a success. There has been some amazing work done by the team in putting this complex site together and the list of authors is already very impressive.
The site design was created by our friends over at Komrade (aka Joomlaworks) and is an edgy design that fits nicely with the other official Joomla site designs. While there is still some functionality yet to be rolled out this is an awesome release and should hopefully be the base for informal, indepth and insightful reflections on using and working with Joomla from users and developers alike.
Im also happy to say that my first article is now published and it covers trends in Joomla template design and our Zen Grid Joomla Template Framework is featured in a side by side comparison between Artisteer, Gantry and You Joomla. Make sure you download the PDF - it breaks down the differences in a nice easy to read format.
Im also pretty chuffed to be one of the editors of the Designers Studio section and so in the next few months we will be canvassing for prospective authors to submit design and Joomla design related articles for publications in the magazine. So if you are interested please fill out the contact form on the Joomlabamboo site and I will get in touch with you.
I hope you enjoy the magazine.
blog comments powered by

Disqus