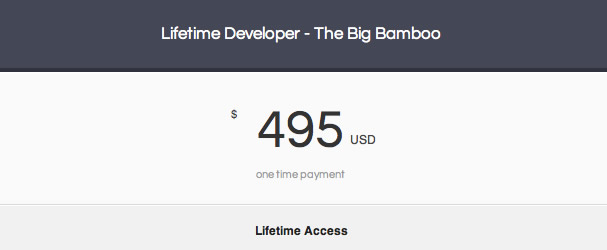 As you may have noticed fromy my Dribbble stream I have been toying with a few ideas for a redesign of the Joomlabamboo site.
I have wanted to overhaul the pricing table for some time and make it, firstly more useful and secondly a lot lighter and I hit upon an idea today that I think achieves that. The table also includes some tooltips for some of the key elements in the pricing grid which I hope will provide a better idea of the benefits of each plan.
You can see it in action on our sign up page.
A new plan ... The Big Bamboo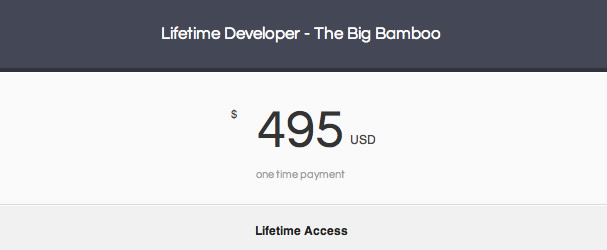 The Big Bamboo Lifetime developer plan is an exciting addition to our list of subscriptions.
We cater to all types of users here at Joomlabamboo and this plan is aimed at busy developer types who love what we do and want to keep using our products .... for .... ever .... (cue space echo effect or manic laughter).
(updated) Say goodbye to the 6 month option ...
In an attempt to simplify the options we will also be dropping the 6 month membership option. Leaving the basic plan options to either a 3 month or a 12 month time length.
Some new prices ...
I have actually had a pretty poor track record when it comes to putting the club subscription prices up.
Back in December 2009 I threatened to change the prices and then later on in October 2010, but this time I'm committed to putting it into action. The new pricing structure will effectively be the same as I hinted at back in October 2010, with only a small bump in price for existing members.
The new pricing structure will come into effect early next week.
The new pricing structure (edited) ...
| | | | |
| --- | --- | --- | --- |
| | **New Members** | **Renewing Members** | **Current Price** |
| _Personal Plans_ | | | |
| **3 Month Subscription** | $45 USD | $38 USD | $40 USD |
| **6 Months Subscription** | NA | NA | $50 USD |
| **12 Months Subscription** | $85 USD | $68 USD | $70 USD |
| | | | |
| _Developer Plans_ | | | |
| **6 Month Developer** | $145 USD | $116 USD | $125 USD |
| **12 Month Developer** | $225 USD | $180 USD | $195 USD |
| | | | |
| _Add on services have stayed the same._ | | | |
| **Template Rebranding** | $29 USD | $29 USD for second use of the service | $29 USD |
| **Quickstart Express** | $49 USD | $49 USD for second use of the service. | $49 USD |
blog comments powered by

Disqus