Simple
A selection of minimal / simple Joomla templates.
When we first started making Joomla templates we built a reputation on creating clean, uncluttered simple Joomla designs. While our style has evolved over the last few years this is still one of the core design principles that underpin our design process and philosophy. We take the view that adding unnecessary design elements does not necessarily add to usability and that when it comes down to it, a minimal template design can convey your message in a focussed and powerful way More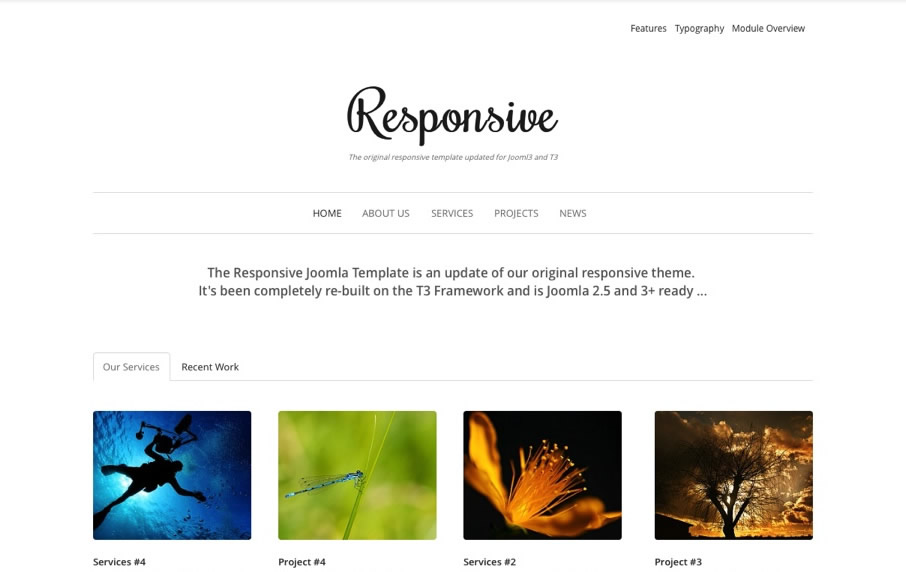 December 2011 - Joomla 1.5 / Joomla 2.5 / Joomla 3 Template

Colour Shift is a bold and beautiful Joomla Template. It is a responsive design that comes with 8 vibrant colour schemes to make your part of the web a happy place ... More

October 2011 - Joomla 1.5 / Joomla 2.5 / Joomla 3+ Template

The Responsive Joomla Template is the new vanilla skeleton theme from Joomlabamboo. It's built on the Zen Grid Framework v2.0 which is feature rich, mobile ready and easy to use. It's the ideal starting point for creating a new responsive Joomla website ... More

...

August 2011 - Joomla 1.5 / Joomla 2.5 Template

While the Rasa Joomla template is not quite a blank slate it's certainly a good clean and simple Joomla template to start building your business website from. It is an elegant template with built in support for K2 plus it's built on our Zen Grid Framework which makes it easy and intuitive to work with ... More

August 2011 - Joomla 1.5 / Joomla 2.5 Template

Newstream matches simplicity with a bold colour palette to create an elegant Joomla news portal or Joomla magazine template. Newstream also comes with an incredible K2 Joomla template that can help you to create an interactive online portal with absolute style and since the template is built on our Zen Grid Framework it makes it almost effortless to create your own flexible interactive magazine masterpiece... More

...

August 2011 - Joomla 1.5 / Joomla 2.5 Template

Newscycle builds on the clean magazine layout from Newstream and adds some funky ribbons, smooth gradients and a smattering of bold colour schemes. It comes with a k2 Joomla template, large and elegant slideshow styling and is the ideal accompaniment for your Joomla news portal or magazine site ... More

...

Jun 2011 - Joomla 1.5 / Joomla 2.5 Template

Element is a colourful and flexible Joomla template that combines subtle pattern textures with bold colour palettes to create a truly beautiful and versatile Joomla template. It comes with a stylish k2 Joomla template and an array of colour choices that make this one of the most flexible templates we have created ... More

...

January 2012 - Joomla 1.5 / Joomla 2.5 Template

Lifestyle is a stunning Joomla template combining transparency, bold slideshows with a healthy dose of white space. It is a responsive design featuring a fullwidth slideshow and also comes with 15 different colour schemes to choose from ... More

...

January 2010 - Joomla 1.5 / Joomla 2.5 Template

Avanti is a smooth business Joomla template with a creative edge - Its the perfect vehicle to put your business out in front at the start of a new decade. Its packed with features including a k2 template to work with the Joomlaworks cck component, a new update of the JB Slideshow module and microblog module both that add advanced K2 functionality to your website ... More

...

Apr 2013 - Joomla 2.5 Template / Joomla 3.0

Blankoshop is a super clean and minimal Virtuemart starter template . It's a responsive Joomla template designed for you to either build your ecommerce master piece with or if you like things a little simpler just add a little touch of zen to Joomla's old favourite ecommerce solution ... More

...