Intrepid Business
Jul 2012 - Joomla 1.5 / Joomla 2.5 Template
The Intrepid Joomla template is a stylish mix of business, blog, news portal and gallery rolled into one to incredibly versatile, flexible and responsive Joomla template.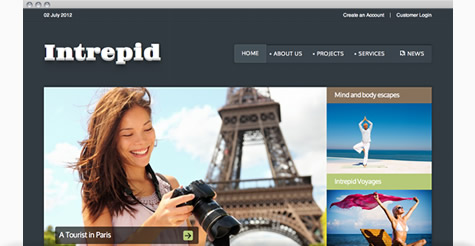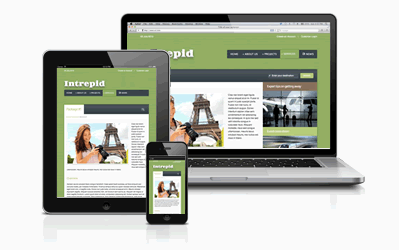 A responsive business Joomla Template
The Intrepid template features a flexible responsive layout that changes according to the width of the users' browser (in browsers that support media queries). This means that you only need one template for the desktop, iPad, iPhone and other mobile devices.
Features at a glance
Elegant content focussed design
26 Hilite options.
9 Background textures colours
Responsive design scales to fit your browser or mobile device.
Built for use with the Zentools module for responsive slideshows, carousels, accordions, grid and masonry layouts.
Zenkit K2 template overrides which bring the power of Zentools to your K2 content
Zenweb business sample data
Intrepid Features
Zenkit - Responsive K2 Templates

Zenkit is a standalone collection of k2 templates that you can drop into any Joomla template and use with your k2 content. K2 is one of the leading content components available for Joomla.
More
Simple sample data packages

The Zen web are carefully crafted Joomla Quick Start packages that are organised in a way that allow you to start writing your own content almost immediately.
A whopping 26 colour schemes

Intrepid comes with an amazing 26 hilite colour schemes and Nine background textures, and a range of useful module classes that will help you to create your very own version of this colourful Joomla template.
Zentools - Responsive Joomla Galleries

The Zentools module is a flexible / responsive image and content gallery module for Joomla. It features the ability to create responsive slideshows, carousels, accordions, grids, lists and more.
More
Standard features of the Zen Grid Framework
The Zen Grid Framework is a feature rich responsive Joomla template framework created for the easy deployment and control of joomla templates.
It is a powerful to tool that can be used to develop fast, flexible and responsive Joomla websites.
Font Control
Awesome font control
Fine grain font control drawing upon web standard fonts plus google fonts and the Typekit foundary.
Flexible Layouts
Flexible layouts
Simple control of page and module widths. The width of the page can be set by pixel or percentage width, or use the 1140px max-width setting.
Effects
Drop panels, tabs, page effects and more
Easily add advanced functionality like drop panels, tabbed interfaces, image lazy load, sticky navs and more.
Translation and localisation.
All templates are easily localised by simply editing or creating your own language translation of both the template admin and the template front end.
Module Positions
A multitude of module positions.
With 50+ module positions in the core framework you will be never run out of positions to add your content.
Logo Upload
Custom logo upload
Easily upload your own logo via the template admin. Or if you don't have one yet use a Google font to display your company name.
Analytics
Integrated Google analytics.
Easily set up Google analytics on your Joomla website by simply pasting your analytics code into the template administrator interface.
Settings
CSS and JS compression
Once you have finished developing your site you can turn on the css and JS compression and reduce the website footprint by only loading one js and one css file from the template and framework.
Joomla Tweaks
Joomla Tweaks.
Remove mootools, remove other scripts, disable the meta generator and more - all within easy access of the template admin.
Learn more about the Zen Grid Framework
Package Contents
A unified Joomla 1.5 and Joomla 2.5 template
Joomla 1.5 Quickstart package
Joomla 2.5 Quickstart Package