Shop Templates
A selection of slightely more grungy textured Joomla templates.
Joomla has a number of options for when it comes to creating an online shop. We have a selection of shop joomla templates that will cater to your Joomla ecommerce needs. You will find in the selection below Virtuemart Templates, templates for the Tienda ecommerce extension and redShop. More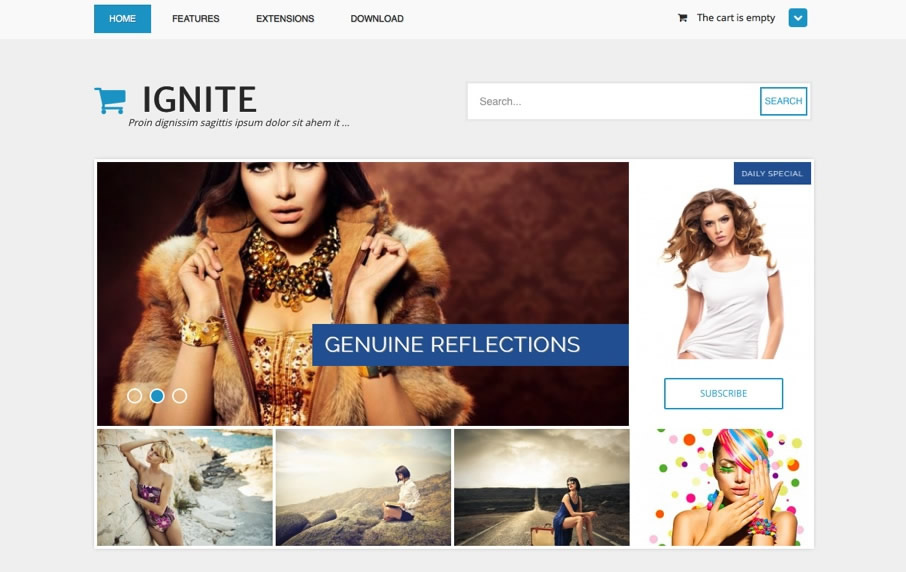 Feb 2014 - Joomla 2.5 Template / Joomla 3+ Template

A clean magazine theme with full width slideshow plus ecommerce support via Hika Shop, and content support for K2, jCAl Pro and more. New Lifestyle is a classy responsive Joomla template for you rnext Joomla project ... More

Mar 2011 - Joomla 1.5 / Joomla 2.5 Template

Shop Ignition is the ideal solution for your online Joomla shop. It sports templates for the Tienda (j1.5 only) and Red Shop ecommerce extensions as well as a flexible and clean K2 template. The bold colour highlights offset the clean design with subtle css3 shadows to provide the perfect vehicle for getting your online shop moving ... More

Apr 2013 - Joomla 2.5 Template / Joomla 3.0

Blankoshop is a super clean and minimal Virtuemart starter template . It's a responsive Joomla template designed for you to either build your ecommerce master piece with or if you like things a little simpler just add a little touch of zen to Joomla's old favourite ecommerce solution ... More

...