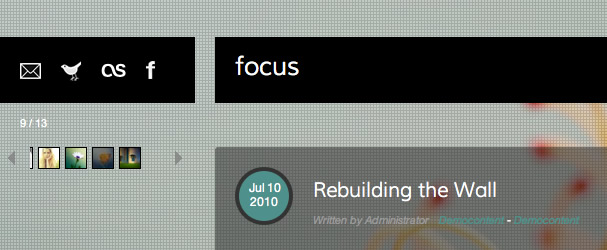 Our September Joomla template release is shaping up to be a bit of a departure from some our recent offerings. We have been playing with this jQuery full screen slideshow plugin and in a word it is simply beautiful to work with.
The way it is shaping up it is going to be a killer photographer's folio / blog template with some pretty extraordinary features for getting your work out there. The theme will mix some subtle overlay patterns, static and fixed elements and also importantly a very intuitive way to create your fullscreen slideshows to slide and fade on the background of your site.
Be sure to check out the screenshots after the jump.
Built in slideshow controls
The controls on the top right black area are a fixed bar and control the slideshow, while the thumbnail carousel under the social icons can be displayed as a carousel or a thumbnail grid.
Full screen slideshow
Full screen mode that gets accessed by the full screen icon on the top right navigation control. Images can either be referenced from specifying a default folder path, or specifying a folder based on the page class suffix or reference images from a flickr photoset.
BTW the photos used in the above example come from Cubagallery collection on Flickr - stunning and amazing work.
blog comments powered by

Disqus