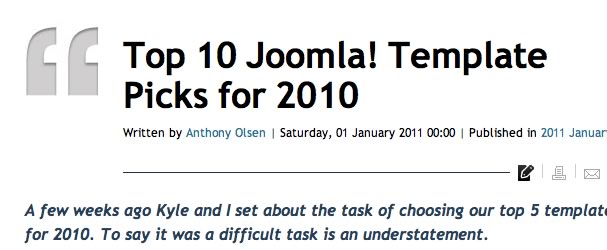 Earlier this week the latest edition of the Joomla community magazine was published and along with it Kyle Ledbetter's and my personal favourite joomla templates for 2010. It was a hard task choosing 5 Joomla templates each from the last year but when I look over the list I think I would stick to the five I chose.
What I love about the Joomla template community is that the level of competition between the various template makers is always very high. The templates on the list are really great examples of design in the first place but they also represent a push in functionality that helps to keep expanding the reach of Joomla. I think this creative edge is a key factor in confirming Joomla's position as one of the best options for online content management and creating web based applications.
So if you haven't already check out the article and let us know which is your favourite joomla template released form the last 12 months.
blog comments powered by

Disqus