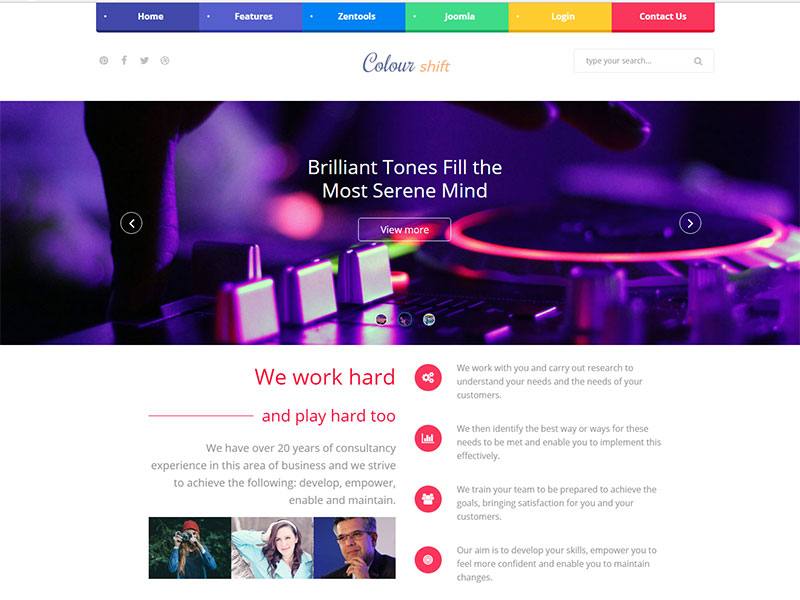 Hi Folks,
With the recent arrival of the new Joomla Bamboo team members and the change of ownership, we have all been very busy and below is a run through of some of the things we're working on.
Colourshift2
Colourshift2 is the September template and will be released next week - apologies for the slight overshoot on the release date (We had to carry out unexpected server updates and this held us back a little.)
October Templates
For October we are aiming to release two Joomla templates all based on the latest Zen Grid Framework. As soon as we release Colourshift2 we will publish a blog post listing these two new designs.
November Templates
Once again we intend to release two templates which are currently at the design stage. One will be a restaurant based template and the other a real estate template.
Downloads and Quickstarts
One of our biggest workloads at Joomla Bamboo has been maintaining and updating quickstart packages, however, as part of our system upgrades, we are working towards a more efficient system where coding updates can be automatically applied to downloads. When this change is complete, it will mean a huge improvement to everything we do at Joomla Bamboo.
Wordpress
One of the major aims for Joomla Bamboo over the next 6 months is porting Zentools and the ZGFV5 to Wordpress and we are aiming to have this completed by February / March 2017. With this new version of the framework we will move towards being CMS agnostic (i.e. the same file will work on different Content Management Systems).
All current ZGVF5 templates will be compatible with this new version of the framework – we appreciate how important this compatibility is to our members.
Zentools2
Zentools2 will remain our premier Joomla extension and all our upcoming templates will continue to use this extension. Over the next few months our priority will be on successfully porting Zentools2 to Wordpress.
Joomla Bamboo Feedback
As always, if you have any questions, ideas or suggestions, please comment below or send us a contact email – we appreciate your feedback.
blog comments powered by

Disqus