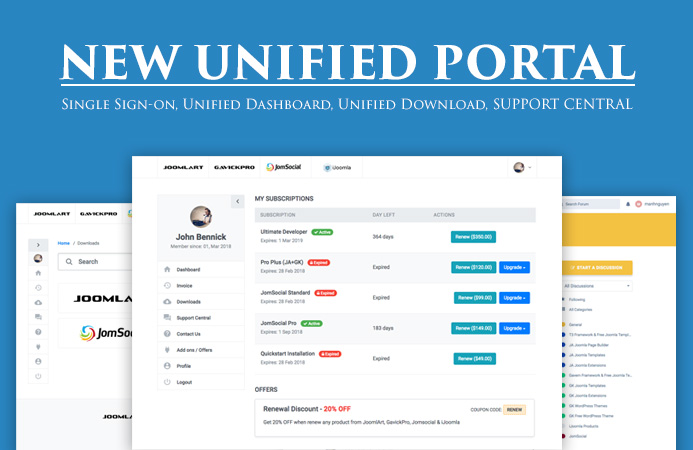 Hi Folks,
Today we have migrated Joomlabamboo to our new unified portal including:
Read this announcement carefully as it affects everyone.
Missed news on the Unified Portal ?
Read this Introductory blog post : https://www.joomlart.com/blog/everything-you-need-to-know-about-our-new-unified-portal
How does the Unified Portal affects you?
Read this launch announcement : https://www.joomlart.com/blog/new-unified-portal-is-live-must-read
Have issue with login?
What's changed?
Support Forums
The Support will now be handled by the Unified Portal forums.
Please post new support queries in new system.
The Joomlabamboo forum and ticket system are now read only.
Downloads
Downloads are also handled by the new Unified Portal and can be accessed from the user dashboard.
The download section of Joomlabamboo will be redirected to the new portal.
Login to joomlabamboo.com
More info:
Everything that you need to know has been covered in the Launch Blog Post : https://www.joomlart.com/blog/new-unified-portal-is-live-must-read
Contact us :
blog comments powered by

Disqus