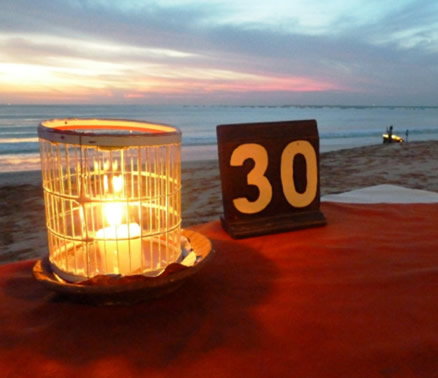 Here's a Bali tale with a business lesson.
We're dining at Jimbaran Bay (pictured).
A few metres away, roving musicians Take it to the Limit One More Time for enthusiastic backpackers. Lean dogs edge close to tables, but are driven off by restaurant staff.
Ring tones
Suddenly our table is ringed by blue shirts, white teeth and worn instruments.
This is not our thing. Fonnie has no requests and I'm flummoxed – ten years of DJing gone in a second.
The men wait, while my Bintang brain races for a track. Any track. It's our ten-year wedding anniversary.
I stare at my wife, hoping to unlock some memory. Finally, a name surfaces and I blurt:
'Every Breath You Take! By ... um ... by ... ummm ... ahhh ... The Police!'
I look at the faces in triumph, but there's no flicker of recognition.