Wedding
Joomla 3+ Template
A sophisticated super flexible one page menu design combined with polished Joomla article / component styling, two new extensions, lots of different layouts and ideal for anybody looking to celebrate that special event… More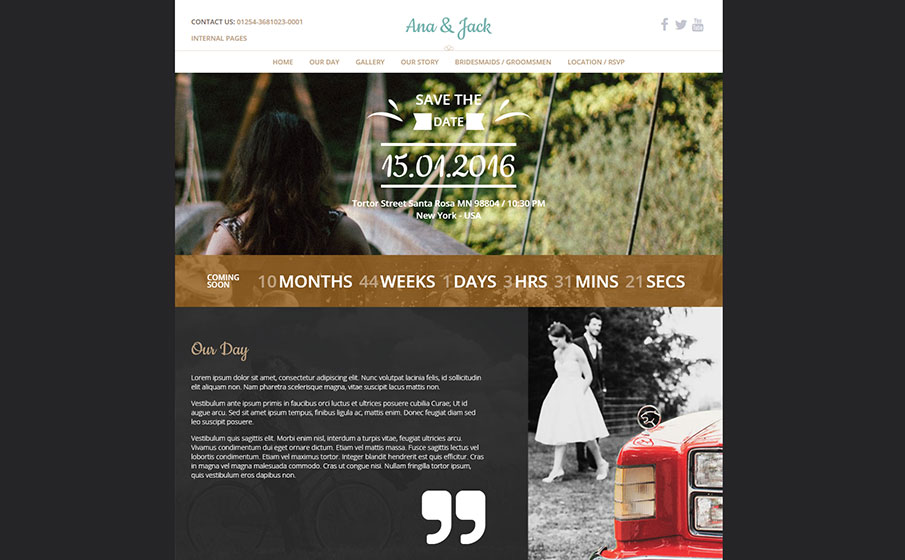 ONE PAGE HOME PAGE

The Wedding home page contains a sophisticated implementation of Build.r's built in one page functionality. The one page menu mode turns your Joomla site into a scrolling one page navigation system that allows you to add page wide navigation to the various sections on the page as well as add navigation within the content of each row.

Default Article / Component support

The template isn't just a great one page design and two new extensions it also comes packed with lots of Joomla article styling support and heaps of different modules.
JB Countdown

JB Countdown functions as the name indicates by selecting a date in the future and the clock ticks down to that date in years, months, days, hours, minutes and seconds. Suitable for that upcoming special event or website launch...

JB Contact

The JB Contact module is a quick contact form that displays name, email, subject and message fields. Super easy to use and implement on your sites while providing that essenial quick contact form functionality.

Zentools2

As our premium and mega flexible extension the design is packed with Zentools2 modules and these range from slideshows, filtered grids, image galleries, parallax scrolling content, to blog content layouts – the options and content sources are virtually endless.

JBMaps2

We are super proud of our stylish JBMaps2 extension and this trendy map module features extensively throughout the design with its trendy map styling and markers. When combined with the JB Contact extension it offers great functionality and a super feature for any design...

Experience superb page speeds.

The above page speed result was tested on a standard content page on the wedding demo, with some small tweaks to the default template settings and our standardised .htaccess file.
Other key features of the Build.r Template
High performance out of the box
Extensive font control with access to a sensible Font Stack, Google fonts and Typekit.
A selection of responsive menu options including Toggle Menu, Off canvas, Select and Stacked.
Dropdown menu with 3 types of animated effects.
Accordion menu to transform any vertical Joomla menu into an accordion or panel menu.
Dedicated one page mode to turn any page or website into a one page website.
Hidden Panel for displaying modules like user logins.
Off canvas position for displaying less important content on the page but off the screen.
Built in css3 effects to make each rows slide, bounce or fade in as the user scrolls.
Handy tools like back to top buttons, sticky menus, image lazy load and more.
Granular control over responsive breakpoints to target where your design breaks.
Social sharing and social network integration.
Developer friendly architecture, for users who want to bypass the interface and dig deep into code.
Bootstrap2 and Bootstrap3 compatibility.
One page mode
Font Awesome 4 font icon support
Like what you see?
Download the wedding template for as little as

$89