reVision
Joomla 2.5 Template / Joomla 3.0
Revision is a Joomla 3 and T3 update to one of our favourites from our back catalogue. Since it was first released in 2008 Vision has been used for countless business, travel, blog, portal, and magazine websites ... More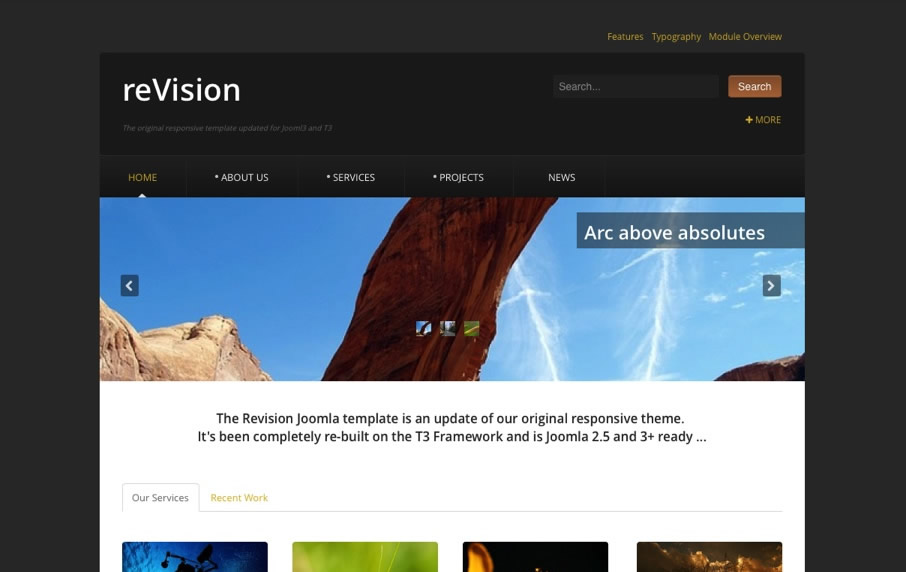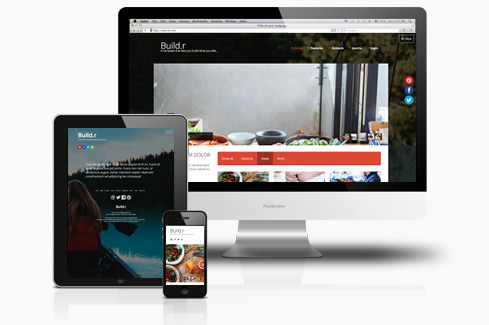 Introducing Build.r
The successor to the
original reVision template.
Build.r is a powerful and flexible all in one package that gives you the ultimate freedom when it comes to creating layouts and designs for your Joomla website all from a powerful and intuitive user interface.
A responsive Joomla 3 makeover

Revision is a simple responsive Joomla template built with powerful features under the hood. It's a responsive design that scales effortlessly across all devices.
A simple starter theme

Revision is designed to be an advanced starter theme for site builders and developers to build their site with. It's uncluttered with a minimal amount of styling - waiting for you to put your own design stamp on it.

Virtuemart reset

Our Virtuemart reset file helps make the default Joomla shopping platform look pretty in our themes. Just drop the VM reset file into the theme and VM suddenly becomes pretty. Simple.

Mobile friendly & responsive

The reVision template is a responsive Joomla template which means that it is optimised
to display across multiple screen types and screen sizes.
It is a single template optimised for mobile, tablet, desktop and wide screens.

Zentools responsive content module

Zentools makes it super simple to use your Joomla / K2 content, or images from a folder to create responsive slideshows, carousels, accordions, grid galleries and more. Featuring a drag and drop interface and intelligent admin panel Zentools is a popular choice for site builders and developers alike.

Easily add google fonts

Beautiful fonts are just a click away. This theme makes it very easy to add any of the fonts found on the google font directory. Just add the name of the font to the administrator panel and let the template do the rest.

T3 Framework Overview

The t3 framework is a light weight and feature rich plugin that provides much of the functionality that you can see on thie Joomla templates demo site. It's a solid basis for creating feature rich and flexible Joomla websites.

Mega Menu

Powerful and flexible mega menu for creating multi column menus as well as adding modules and icons to menu items.

Layout control

Intuitive draggable interface for specifying widths for module positions that can be refined and adjusted according to your user's screen resolution.

Real time theme customisation

T3 includes a powerful theming tool called Theme Magic. It provides the ability to make real time non-destructive adjustments to the appearance of your theme.

Built in Less compiler

A built in less compiler makes it easy to recompile less files from your live server.

Built on bootstrap

The Bootstrap css and javascript framework is the foundation for Joomla 3 and T3, so the two work together seamlessly.

Built in off canvas menu

T3 supports one of the leading options for mobile navigation by providing an off canvas menu for discrete and intuitive navigation on tablets and phones.

Responsive K2 templates with Zenkit

This template is optimised for use with Zenkit - our flexible responsive templates that effortlessly transform your K2 content. Easily apply a slideshow, accordion, grid, carousel, magazine or blog layout to your K2 content.
Like what you see?
Download the ReVision template for as little as

$89