Zen Grid - 960 Grid Joomla template
November 2009 - Joomla 1.5 Template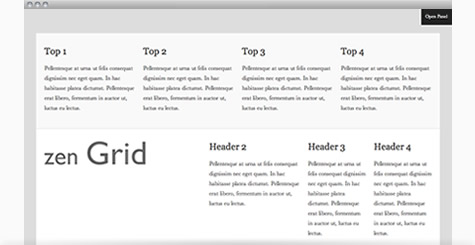 We are very happy to announce the release of our very own template framework built for developer based on the 960 CSS Grid framework. Zen Grid takes the core features of the flexible 960 Grid system and ports it to Joomla inside an elegant, easy to use template scaffold that gives you complete control over all aspects of layout and styling. Zen grid is the perfect starting point for developing your own Joomla template.
Introducing child themes for Joomla
If you are familiar with WordPress's theming system then you will most likely know about child themes. The child theme basically sits on top of the mother themes framework making it super easy to create new themes by adjusting one or two CSS files. The Zen Grid Joomla template introduces child theming for Joomla by keeping all of the style related code and images in the style folder which makes it super easy to personalize this skeleton template.
Ultimate Joomla module flexibility
When you add it up, you get a whopping 50+ module positions with Zen Grid. This includes a hidden panel and our versatile grid system, which is able to be used in auto mode or configured down to the smallest detail.
Total control
The Zen Grid can have 1-4 columns across the main content area, with the content aligned to the left, right or in the middle. All of the controls for this are in the template manager, so you don't need to be a CSS wizard to make changes.
Lightweight and fast loading
We spent a lot of time during development focused on making the Zen grid template as fast loading as we could. The base theme weighs in at 197 kb uncompressed or 84 kb using the CssJs compress plugin.
Superfish and Panel Menus
Package Contents
xhtml and css valid Joomla 1.5 Template
Joomla 1.5 Quickstart package
Full source PNG Files