OnePageTwo
Joomla 3+ Template
An elegant one page Joomla template designed for artists, photographers or any one who just loves simplicity. It comes with a few nifty new features and fucntionality which make controlling this Build.r child theme a breeze.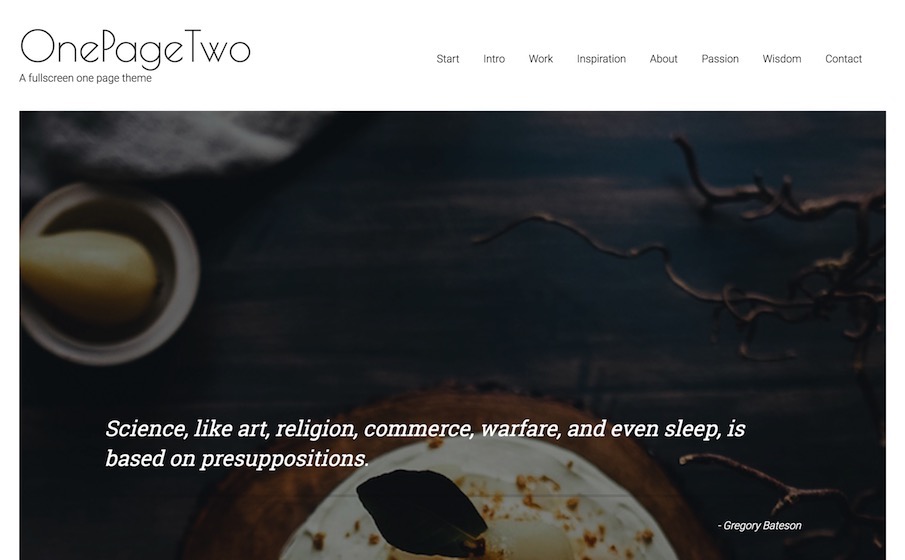 It's all on the page ...

OnePageTwo is a sophisticated implementation of Build.r's builtin one page functionality. The one page mode turns your Joomla site into a scrolling one page navigation system that allows you to add page wide navigation to the various sections on the page as well as add navigation within the content of each row.
Smooth scrolling on page anchors

A new option in the Zen Shortcode plugin is to create a table of contents for manually added sections on the page using simple shortcode syntax. The table of contents will automatically scroll to the specified area on the page using the built in Smooth scroll functionality.

Building a table of contents like the one shown in the diagram is as easy as

Full height rows of content

Rows of content can now be forced to display in a full screen height mode. Making any row in your template fill the entire screen height is as simple as clicking a button int he template settings. Your content is automatically vertically entered in the row making it super easy to make beautiful splash pages for your content.

A Build.r child theme.

Build.r child themes utilise the Build.r core with the addition of a stylesheet, optional javascript file, optional asset file and optional layout file. The Build.r child theme system makes it possible to override most of the key layout and display information.

The child theme is simply selected in the template admin and the new style information and javascript is included in your template once your template is saved.

Sticky modules

Another new addition to the Build.r template is the sticky module functionality. By simply adding the module class 'sticky-module' to any module the module can be made to "stick" on the screen for as long as that row of content is visible. In the event that the user scrolls past the row of content the module is detached and moves upwards with the associated content.

Parallax rows.

OnePageTwo features Build.r's beautiful parallax behaviour. Combined with the full screen height option it is now possible to make stunning and immersive themes by the click of a few buttons.
Other key features of the Build.r Template
High performance out of the box
Extensive font control with access to a sensible Font Stack, Google fonts and Typekit.
A selection of responsive menu options including Toggle Menu, Off canvas, Select and Stacked.
Dropdown menu with 3 types of animated effects.
Accordion menu to transform any vertical Joomla menu into an accordion or panel menu.
Dedicated one page mode to turn any page or website into a one page website.
Hidden Panel for displaying modules like user logins.
Off canvas position for displaying less important content on the page but off the screen.
Built in css3 effects to make each rows slide, bounce or fade in as the user scrolls.
Handy tools like back to top buttons, sticky menus, image lazy load and more.
Granular control over responsive breakpoints to target where your design breaks.
Social sharing and social network integration.
Developer friendly architecture, for users who want to bypass the interface and dig deep into code.
Bootstrap2 and Bootstrap3 compatibility.
One page mode
Font Awesome 4 font icon support
Like what you see?
Download the OnePageTwo template for as little as

$89