Collector
Dec 2012 - Joomla 1.5 / Joomla 2.5 Template
Collector is all about getting social. It's a clean, classy and elegant Joomla template, that is designed to display your favourite social feeds all in one place ... More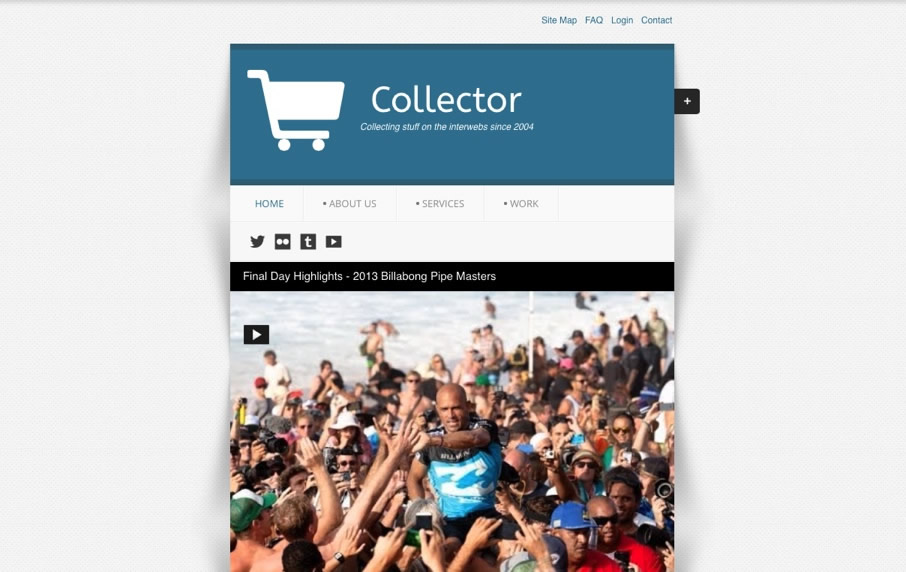 Responsive social streaming

Collector is an elegant responsive Joomla template that is optimised to work on your Joomla website across all screen sizes. It scales effortlessly inside the browser window regardless of the screen size. One template to fit all devices.
Extensive fonts available

It's simple to add a google font to your website via the template's administrator panel. Choose any of the fonts available on the Google web font directory to truly personalise the character of your website theme.

Compatible with Zentools

Optimised for Zentools which now allows you target image sizes across a number of different devices.

Full responsive layout

The Collector template is a responsive theme for Joomla which automatically scales and adapts to the size of the screen used by your user

Responsive slideshows, grids, accordions and more

Zentools is an all in one solution for creating feature and content rich websites for site builders and developers. An inuitive and intelligent drag and drop interface makes it possible to create flexible layouts including responsive slideshows, carousels, grids galleries and more.

Social icons via Ze Social

Social icons now using font icons to improve load time and provide extra styling flexibility.

Flexible theme options

Combination of 24 colour hilites plus 18 texture and banner styles to create your own design

Responsive K2 templates

This template is optimised for use with our responsive standalone templates for K2. Zenkit features responsive slideshows, carousel, filterable masonry grid, accordion, magazine and blog layouts.

Support for our Jomsocial starter theme

Compatible with our responsive Jomsocial template

Joomla 1.5 and Joomla 2.5

Unified Joomla 1.5 and Joomla 2.5 package
Like what you see?
Download the Collector template for as little as

$89