Helio - Thin Joomla Blog Template
May 2008 - Joomla 1.0 and Joomla 1.5 Template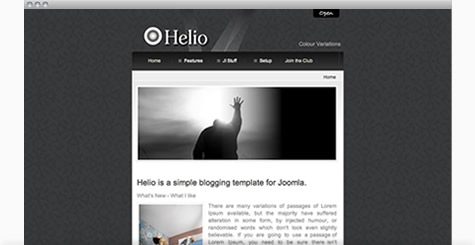 Helio is a super slim Joomla template with plenty of spunk. Its a perfect blogging template that keeps the content together for easy reading. Its very flexible and features a new news scroller module.
Clean and simple
Looking for something that isn't bloated with extra junk? Helio is the answer with the cleanest and most direct aproach to displaying your content. View the options available.
JB Latest News Ticker
We've released a new module for this template that shows the latest post titles and scrolls them in a ticker format. Its great for showing visitors the other articles on your site. See it in action.
Over a dozen Colour and Background Variations
Helio can conform to your colour pallate with 16 predesigned colour variations that are easy to switch between. There is a colour choice for anyone. There are also a large number of background textures to choose from. Compare the styles.
The Sliding Panel
Helio has a neat little sliding panel that allows you to keep the login module within reach, but not have it clutter the screen. Read more about the Sliding Panel.
Superfish
Package Contents
xhtml and css valid Joomla 1.5 or 1.0 Template
Joomla 1.5 or 1.0 Quickstart package
Full source PNG Files