Clean Commerce - Clean Joomla Shop Template
February 2008 - Joomla 1.0 and Joomla 1.5 Template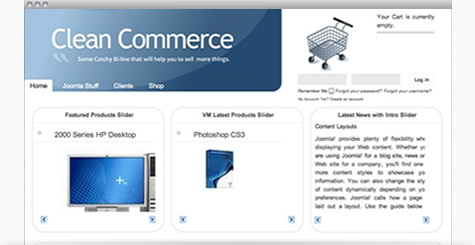 Clean Commerce is ... well, clean. It uses VirtueMart to create an awesome e-Commerce template that easily fits into Joomla. Its got some neat modules that will rock your new store.
A beautiful e-Commerce design
We are convinced you'll like it because it looks good, but add in the fact that its designed to work with the leading e-Commerce extension for Joomla and you'll be in love. It comes with 7 various styles. See it in action.
Slick Product Sliders
Clean Commerce comes with several ways to feature your products and content. Several sliders are available to quickly display your top products or latest news. See the demo.
Clean Effects
We have included a variety of extra little effects for this template. There is the slimbox, a modal window plugin, a slick dropdown menu, and a smoothbox feature. See the them in action on the demo site.
Modules galore
Clean Commerce has a total of 19 module positions that will help you fit your content exactly where you want it.
Valid Code and IE6 Compatible
Package Contents
xhtml and css valid Joomla 1.5 or 1.0 Template
Joomla 1.5 or 1.0 Quickstart package
Full source PNG Files